This alert may not be shared outside your organization, Do Not Repost or send, place on other websites, List servers, or send to others via email, including other associations or parties. Members and Law enforcement use only. Contact us for any permissions. To do otherwise will result in the loss of membership.
Complete Story

04/09/2023
Don't fall for this new banking scam
Fox News
We recently received this email with important information about banking scams from Jeff from Connecticut. Here's what he had to say.
Dear Kurt,
I am reaching out to you regarding a suspicious banking email that I received recently. I followed your previous advice and refrained from clicking on any links in the email. I also checked the email address and found that it was not a Wells Fargo address. However, the email looked exactly like it came from my bank, which is quite concerning. I believe it is crucial to inform your readers about this banking email scam so they can avoid falling victim to it.
Best regards,
Jeff
CLICK TO GET KURT'S CYBERGUY NEWSLETTER WITH QUICK TIPS, TECH REVIEWS, SECURITY ALERTS AND EASY HOW-TO'S TO MAKE YOU SMARTER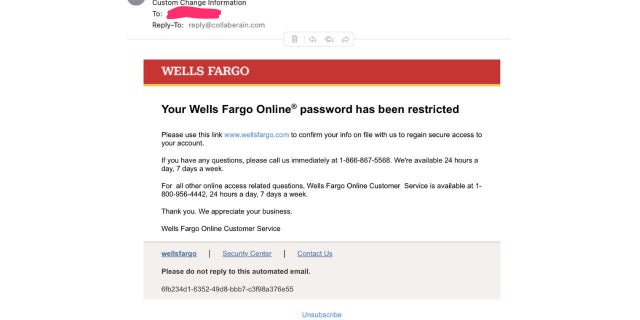 You can see above how convincing Jeff's email looks and how much more skilled scammers are getting with tricking people. Let's go over some key points to remember when receiving an email like this.
How can you tell if an email is a scam?

Alerts
The FRPA alert system distinguishes us from other groups by gathering and providing information to law enforcement, retailers AND financial institutions.
more information

Resources
Your electronic library to help in fighting financial fraud for all of our partners.
more information